Nihon Kendo Kata
Atlanta Kendo Kai had the honored pleasure to learn and practice the ten Nihon Kendo Kata with Kyoshi Hachidan, Yoshiyuki Ota Sensei. Ota Sensei taught, in intimate detail, each kata, instructing not only how to perform the kata but how to practice them in his absence.
Kata, as we know them today, were introduced into the Kendo curriculum in 1912 but actually date much further back. With roots in the feudal period of Japan, kata links the spirit and heart of budo to today's kendo. Performed with bokuto, reminiscent of the Samurai's katana, kata helps the kenshi keep the mentality that kendo, indeed, is not a sport but a martial art.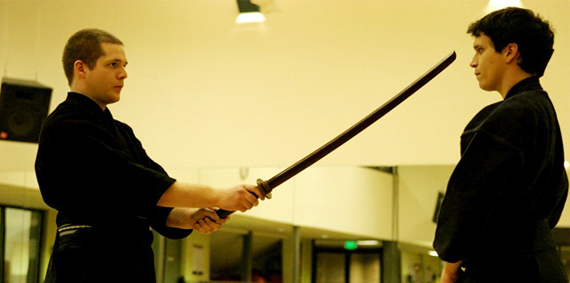 The quintessential, definitive symbol of the samurai were the two swords worn in their obi. One long, one short. It is for the legacy and in the tradition of the samurai that both tachi and kodachi are utilized in the Nihon Kendo Kata. In each kata two kenshi face each other in a predetermined battle.  All kata, however, teach the fundamentals of posture, footwork, breathing and techniques.