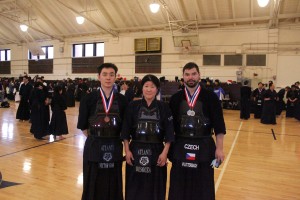 On Saturday, April 4th, the Cleveland Kendo Association hosted the 27th annual 
Cleveland Kendo Tournament / Greater Northeastern United States Kendo Championships
.  Here are the results from our Atlanta Kendo Kai members who participated in the tournament.
3rd and 4th Dan Division:
Pavel Litterbach – 2nd Place
Victor Koh – 3rd Place
Teams Division
Pavel Litterbach joined as a participant of the Mix USA team, which won 1st place.
Congratulations to all the winners, and thank you to the Cleveland Kendo Association for hosting another amazing tournament!